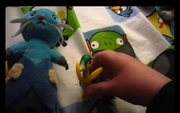 He was going to be main character in Poke Adventures as female, but to keep the show nice that series with him was removed and a new version of him was seen. He went missing so that is why SPC Episodes got cancelled.
Gender - Male (female in early development)
Age - 13
Birthday: March 11, 2000
Egg Created On: July 7, 1999
Section heading
Edit
Write the second section of your page here.
Ad blocker interference detected!
Wikia is a free-to-use site that makes money from advertising. We have a modified experience for viewers using ad blockers

Wikia is not accessible if you've made further modifications. Remove the custom ad blocker rule(s) and the page will load as expected.