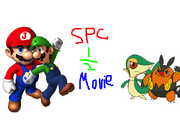 The side series of SPC Episodes. This is not int the Side Series, while this is part of SPC Episode Line.
The first 17-minute movie aired on March 23, 2013 and it took place on September 1, 2012.
Section heading
Edit
Write the first section of your page here.
List of 1/2 Movies
Edit
12M001. The Battle
Aired: March 23, 2013
Debuts: SPC's Snivy (not yet figure), Mario, SPC's Pignite (as Luigi's substitute), Mario Jr., Luigi Jr., Pink Yoshi (as CutePinkYoshi), Red Yoshi (as RedYoshi WEEGEE), Post Man, Yoshi Jr.
Ad blocker interference detected!
Wikia is a free-to-use site that makes money from advertising. We have a modified experience for viewers using ad blockers

Wikia is not accessible if you've made further modifications. Remove the custom ad blocker rule(s) and the page will load as expected.