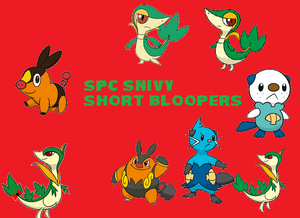 The new replacement for SPC Snivy Episodes, and the 2nd replacement for the main series.
1. Servine? (Debut of A Female Servine, and Wario)
2. 
3. The Sickness of DOOM!!!! (aka PREPARE TO MEET YOUR DOOM!!!!)
4. The Infinity Dungeon (Debut of Axew)
This is the only series to get a completely changed title card between episodes. This is due to it looking bad to SPC Snivy (along with the music). The Female Servine got changed to to SPC Snivy thought she looked ugly with her tail. Osher's mouth was repositioned to make him happy, and make him not to be confused with SC's Oshawott.

A new method of created of recording the series. No title card in the video, and just record 1 clip (or more)
Ad blocker interference detected!
Wikia is a free-to-use site that makes money from advertising. We have a modified experience for viewers using ad blockers

Wikia is not accessible if you've made further modifications. Remove the custom ad blocker rule(s) and the page will load as expected.